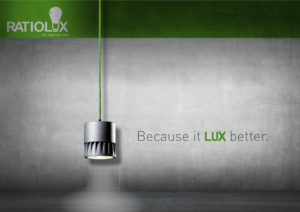 For love of light
This sentence is not just a commercial slogan for us, it is the top maxim of our daily work.
RATIOLUX GmbH strives to deliver the best quality to all our customers through optimal service and individual advice. We realized very early that we can only succeed in discussing the daily needs with our customers in a common dialogue and to try to implement technical challenges. A "that does not go!" Is in our vocabulary basically not.
Through this basic setting, we are always able to tackle technical challenges and to develop them in the shortest possible time to market.
RATIOLUX GmbH's commitment to sustainability is also hand-in-hand.
It is in our philosophy to pay attention to economic, ecological and social values. This includes the commitment to local employees and locations as well as environmentally friendly production processes and long-term economic action.
We can only achieve our ambitious goals with motivated employees at a highly technological production site "Made in Germany".
RATIOLUX GmbH is also looking forward to providing you with advice and assistance in the field of lighting, for the love of light!